Deliver the scale, high performance, and reliability today's travel and hospitality applications require
The travel and hospitality industry depends on a complex network of interactions between travelers, consolidators, suppliers, maintenance providers, call centers, web services, and management services. Couple that with look-to-book ratios doubling annually to a staggering 1000:1 in the past decade, and it becomes nearly impossible to support such an ecosystem with existing transactional and analytical systems. For travel companies who are looking to keep up with this extraordinary pace, Couchbase provides the database that powers microservice-based architectures and brings the scale, high performance, flexibility, and high reliability today's web, mobile, and IoT applications demand.
Customer success spotlight
Amadeus, the world's leading transaction processor for the global travel and tourism industry, depends on Couchbase to deliver 8M ops-per-second at <2.5 ms response time.
Learn more
8M ops-per-second at
<2.5 ms response time
Global hotel giant Marriott moved reservations and inventory systems off its mainframe and away from Oracle to Couchbase, achieving 4,000 transactions per second.
Learn more
4,000 transactions per second
From fleet tracking to crew services, Couchbase offers a single source of truth for United for 41,000 pilots, attendants, crew, and schedulers.
Learn more
41,000 pilots, attendants, crew, and schedulers
Why Couchbase NoSQL for travel & hospitality
Scale: Easier, more affordable scalability
Couchbase's network-centric architecture with a high-performance replication backbone allows the database to be easily extended while maintaining performance at scale. Unlike relational databases like Oracle and MySQL, Couchbase supports ever-increasing look-to-book ratios and highly seasonal workloads in heavy travel seasons which cause significant spikes in throughput demands. Couchbase scales (in, out, up, or down) easily and without disruption to meet these demands. Unlike MongoDB™, Couchbase won't run out of steam when you need it most.
Performance: Better performance and higher availability than any other database
It's no wonder that 95% of the world's travel searches flow through Couchbase. Aggregation sites such as Kayak and Skyscanner present results in the order they get them – first come, first served. Customers see the flights, hotels, and rentals that are returned the fastest. At all layers of the booking experience, customers expect immediate responsiveness, regardless of geography, time, or channel (web, mobile, etc.). Through its distributed nature and fully integrated cache, Couchbase's memory-centric architecture gives your application the sub-millisecond responsiveness it requires.
Availability: Built-in high availability and disaster recovery
Travel applications and services need to be available 24/7. Couchbase provides five-nines availability with built-in high availability and flexible cross data center replication (XDCR) that supports disaster recovery and data locality requirements. Couchbase also supports ship-to-shore topologies, allowing vehicles and machines to operate even when not connected. With Couchbase, you have full control over the topology – unidirectional, bidirectional, or any configuration you need.
Flexibility: Lower costs and faster time to market
The variety of products, characteristics, and options that need to be represented is constantly changing. Integrating completely separate business systems, as the result of a merger or acquisition, is an ongoing challenge. Couchbase's powerful query language allows developers to easily query JSON data using familiar, SQL-like expressions. Tightly integrated full-text search, real-time analytics, and powerful eventing services make it easy to add new features to your application on the fly without moving data into and managing myriad database technologies, finally putting an end to database sprawl.
Mobile: Integrated mobile capabilities support omnichannel experiences
Couchbase is the only NoSQL database that supports experiences online, in store, or on the go. Couchbase Mobile extends Couchbase Server to the edge with an embedded NoSQL database (Couchbase Lite) and a web gateway (Sync Gateway), includes peer-to-peer replication, and enables locally connected applications like in-flight services.
Industry use cases & solutions
Price/product catalog
Power your booking engine with a highly flexible and scalable price/product catalog.
Booking engine
Provide seamless bookings using the shopping cart service and built-in cache for high performance at scale.
Inventory and pricing
Give passengers the ability to search availability and compare prices anytime, anywhere, on any device.
Reservation & PNR
Deliver real-time updates on availability, changes, promotions, reservations, and passenger name records (PNR).
Crew services
Improve your employee experience and crew operations efficiency with accurate, up-to-date information from multiple sources.
Customer 360
Power the user experience with flexible preferences, booking options, and recommendations, from the web to the mobile app.
Learn more
Catalog & inventory management
Power the shopping cart, inventory/price engine, recommendation engine, reservation data, and content catalog.
Learn more
Field service
Power travel and hospitality applications, including remote employee/crew services applications and asset/fleet tracking.
Learn more
IoT data management
Leverage IoT devices like sensors, keycards, mobile devices, and more to deliver personalized offers to travelers in real time, collect customer data, and more.
Learn more
Travel & hospitality reference architecture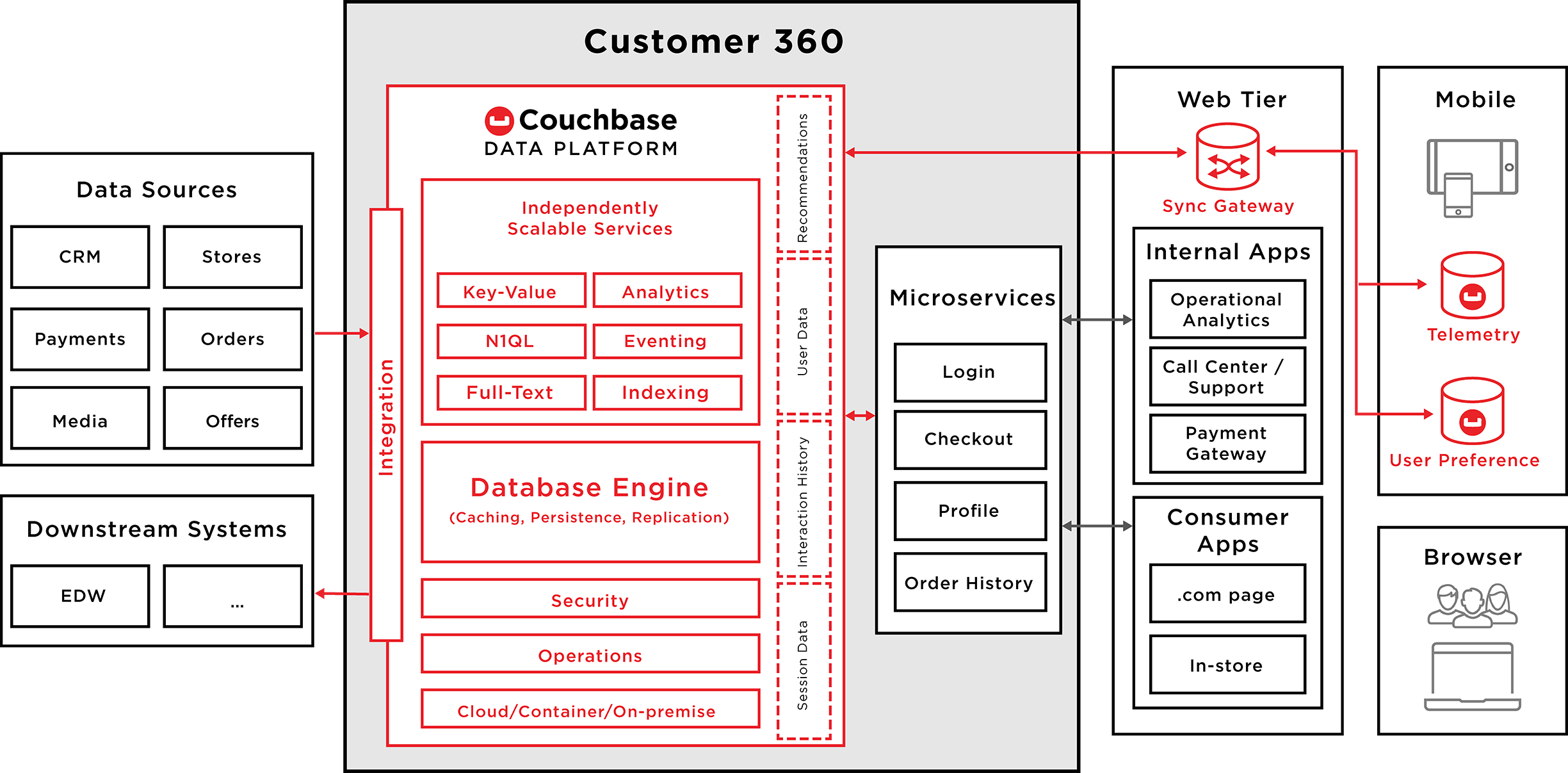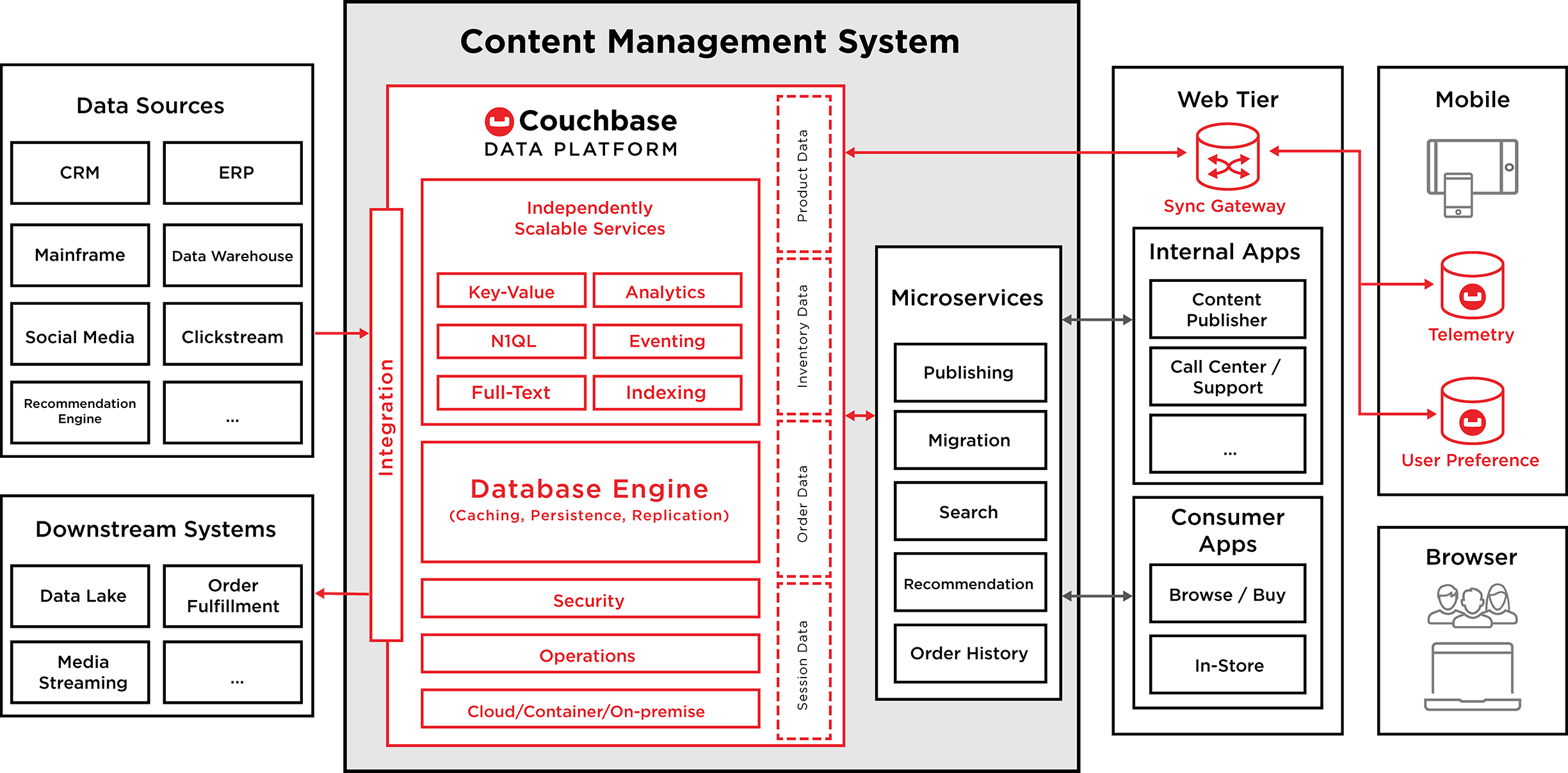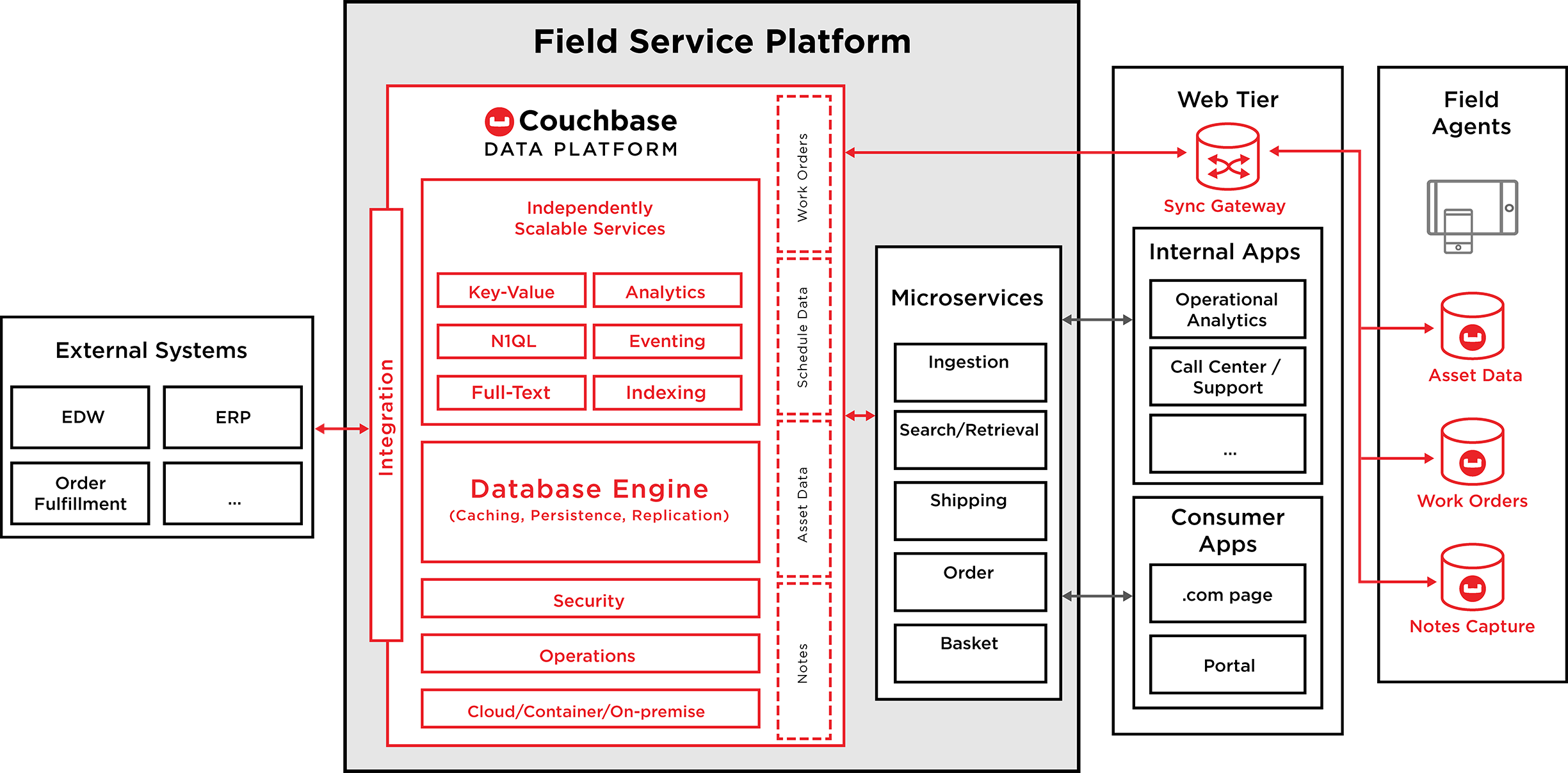 Start modernizing with Couchbase
Get Your Modernization Guide Now