Purchase any of our 2023 Certification Exams, now without a proctor requirement.
Couchbase Academy
Productive teams get the best results when they share a common skill set. Couchbase Academy provides extensive hands-on learning experiences to help your team implement Couchbase products quickly and effectively. Whether you want to learn on your own or with the guidance of an in-person instructor, the Academy's courses cover Couchbase NoSQL, data modeling, querying, indexing, searching, various software development kits (SDKs), administration topics, and more. Read on to choose the best way to get your team up to speed.
Free online courses
Experience how easy it is to develop on Couchbase using your existing SQL skills. Choose your topics of interest and learn at your own pace.
Get started free
Instructor-led training
Take your training to the next level. Choose from public or private classes led by Couchbase experts who can answer your toughest questions.
Learn more
Explore courses by level and role
Learn all the skills required to effectively develop data-driven applications using Couchbase. This includes how to model data in a NoSQL world, how to create and optimize queries using N1QL, and how to create applications in a number of languages that interact with Couchbase.
Professional Developer
Featured courses:
Expert Developer
Featured courses:
There are no expert developer courses available at this time. We regularly update our courses so check back later!
Understand the core concepts related to data modeling, N1QL, and full-text search. If you're used to working with relational databases, learn how to smoothly transition into the world of Couchbase and NoSQL.
Associate Architect
Featured courses:
Professional Architect
Featured courses:
CD212 – Couchbase NoSQL Data Modeling, Querying, Full-Text Search, and Analytics
This instructor-­led course guides developers, architects, and DBAs on storing and accessing data rapidly and at web scale, in diverse document-database use cases based on JSON, using Couchbase Server, N1QL, Full-Text Search, and Analytics.
Expert Architect
Featured courses:
This course goes into detail on key concepts for building, managing, and deploying N1QL queries and Global Secondary Indexes (GSI) as part of your Couchbase applications.
Transfer your skills as a DBA or DevOps person to the world of NoSQL with Couchbase. Learn the core fundamentals of NoSQL and the architecture of Couchbase.
Associate Administrator
Featured courses:
Professional Administrator
Featured courses:
Expert Administrator
Featured courses: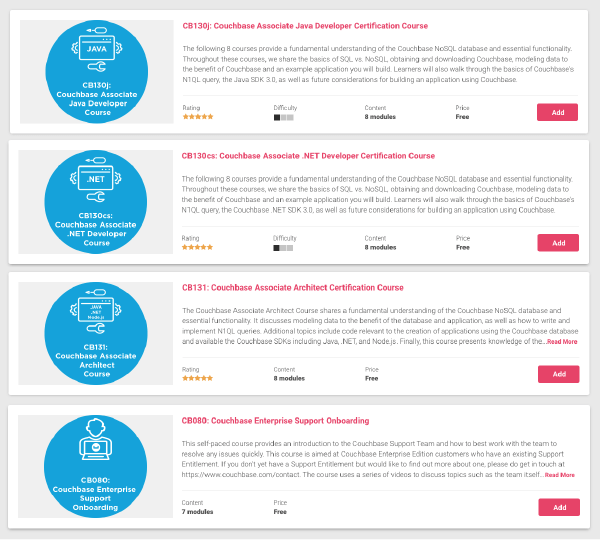 Why train?
Studies show that employees who are well trained report greater job satisfaction, which can lead to greater retention of high-quality talent. Also, when your IT professionals are proficient with Couchbase, they'll be able to spend more time using it efficiently to achieve your business goals and less time going through exercises of trial and error. Finally, training prepares your team to be proactive in anticipating and addressing challenges, rather than reacting to problems after they happen.
With Couchbase Academy you get the most accurate and important information delivered in a timely and efficient manner. Investing your time here will help you and your team be successful and give you the fastest return on the efforts you put in!