We at Couchbase are committed to the continued growth of our Couchbase community and we believe that our community edition is a good way for developers in the community to get to know Couchbase.
Today, we glad to announce that Couchbase Community Edition 3.1.3 is generally available. This release fortifies the previously released 3.0.1 Community Edition with the top bug fixes to improve product stability.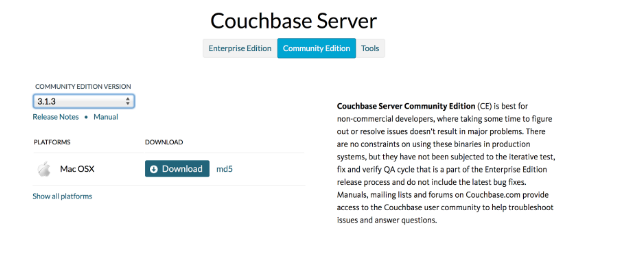 Start exploring Couchbase Server Community Edition 3.1.3 today by downloading the software or reviewing the release notes.
We hope that our community edition will not only open doors for any developer wanting to get started with Couchbase, but also further enable the Couchbase community to grow.
Need an Enterprise-Grade Solution?
If you are managing business-critical use-cases in a production environment, Couchbase Server Enterprise Edition, represents the latest, most stable, production-ready release. You can learn more about Couchbase Server Enterprise Edition here.