Couchbase Connect is an event where the best Dev and Ops minds in NoSQL get together! Inviting all developers, architects, administrators, and CxOs to Save the Date for Couchbase Connect16.
This event is happening in the beautiful Bay Area and could be your reason to visit Silicon Valley! And if you live nearby, then there is no excuse not to attend!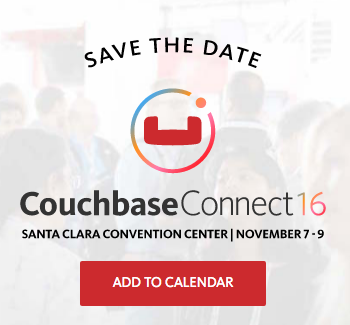 You will hear from the best speakers in the NoSQL industry. You'll also get an opportunity to meet Couchbase Product Managers, Engineers, Developer Advocates, Community Champions and Experts, Executive Team Members, and many more. Who knows
which discussion will help you replatform your application to get ready to meet the demands of the Digital Economy!
You'll not only learn about the some of the coolest features in Couchbase, but also get to hear about our product roadmap. There will be hands-on workshops, sessions by practitioners, quick tips, informal Birds of a Feather discussions
and a lot more. And of course, the hallway track will enable you to socialize with attendees and others from Couchbase.
Couchbase Connect 2016 Call for Papers
Are you using Couchbase and would like to share your success story? We'd love to have you submit a talk proposal. Some of the suggested topics include:
Building a polyglot application with microservices and using Couchbase
Deploying Couchbase container using any of the orchestration frameworks like Docker Swarm, Kubernetes, Mesos, and AWS ECS
Using Couchbase Mobile in a creative way
Making Couchbase Mobile offline work for you in an interesting environment
Provisioning, managing, scaling, and monitoring Couchbase clusters
Integration with a Big Data platform such as Hadoop, Spark, and Kafka
Any interesting tools that you've built around Couchbase
Migrating from RDBMS or other NoSQL databases to Couchbase
Using Couchbase in production with hundreds of nodes and multiple clusters
Connecting edge/IoT devices using Couchbase Mobile and Server
And these are only a handful of suggestions. Feel free to get creative and go crazy!
Submit your talks at: info.couchbase.com/Connect_2016_call_for_papers.html.
Each talk is usually 40-minutes long, but you can also submit a 10- or 20-minute lighting talk as well. The Call for Papers ends on Sep 1, so don't delay. Start thinking about those abstracts and submit your ideas today!
All speakers will be invited to a VIP dinner, get some exclusive swag, and a whole lot more.
Sessions from Connect 2015 can be viewed at connect15.couchbase.com/sessions/.
Check out some pictures from Connect 2015:
If pictures are any indication, Connect will be a complete NoSQL geekgasm. You don't want to miss the party and all the fun!
Couchbase Connect References