Modernize your architecture and drive innovative cloud solutions
Old technology is slowing down your financial institution. Monolithic legacy databases with expensive maintenance and punitive licensing won't let you innovate for tomorrow or keep up with the consumers of today. You should be leveraging what digitally native challenger banks have already discovered: a NoSQL cloud database. With Couchbase database technology, you can modernize your financial institution and deliver real-time risk management, enterprise-wide analytics, digital banking, and automated government regulatory compliance.
Customer success spotlight
FICO powers sub-millisecond response times on the world's leading fraud detection platform with Couchbase.
Learn more
World's leading fraud detection platform
Wells Fargo, the world's second-largest bank, monitors 50M+ transactions per day for fraud in real time with Couchbase.
Learn more
Monitors 50M+ transactions per day
Consumer credit reporting agency Equifax aggregates consumer data for more than 91M businesses worldwide, achieving 5 millisecond response times with Couchbase.
Learn more
91M businesses worldwide
5 millisecond response times
Why Couchbase for financial services
Multi-dimensional scaling
Couchbase's network-centric architecture with a high-performance replication backbone allows the database to be easily extended while maintaining performance at scale. Unlike relational databases like Oracle and MySQL, Couchbase supports ever-increasing workloads and spikes in throughput demands. Couchbase scales (in, out, up, or down) easily and without disruption to meet these demands. Unlike MongoDB™, Couchbase won't run out of steam when you need it most.
Real-time analytics
Couchbase Analytics reduces the time to insight on operational data and simplifies operations for analytical data pipelines. Run ad hoc queries on financial data for real-time results on applications like fraud detection, trade analytics, and more, and apply real-time analytics to surface risk issues as they occur.
Sub-millisecond responsiveness
While other NoSQL databases require a third-party cache – adding to both cost and complexity – Couchbase has a fully integrated read-through and write-through caching layer. Couchbase's memory- and network-centric architecture consistently delivers the sub-millisecond responsiveness that today's users expect.
Cross data center replication
Couchbase provides five-nines availability with built-in high availability and flexible cross data center replication (XDCR) capabilities that supports disaster recovery and data locality requirements. With Couchbase, you have full control over the topology – unidirectional, bidirectional, or any configuration you need. Yapstone, a global payments platform, chose Couchbase for its active-active global deployment.
Powerful query language
Couchbase drives the flexibility and increased operational efficiency you need to not only get your financial services applications deployed quickly, but to keep up with the constantly changing data (risk assessment, market data, and more) in those applications. Couchbase's powerful query language allows developers to easily query JSON data using familiar, SQL-like expressions. Tightly integrated full-text search, real-time analytics, and powerful eventing services make it easy to add new features to your application on the fly without moving data into and managing dozens of database technologies, finally putting an end to database sprawl.
Mobile to edge
Couchbase is the only NoSQL database that supports in-person payments, online banking portals, or mobile e-payments. Couchbase Mobile extends Couchbase Server to the edge with an embedded NoSQL database (Couchbase Lite) and a web gateway (Sync Gateway), enabling apps to work offline regardless of network availability, and powering use cases at the edge such as real-time fraud detection, personalization, and more.
Industry use cases & solutions
Fraud detection and scoring
Manage your growing number of accounts, cards, and customers to provide fraud detection services in real time.
Mobile wallet
Manage the provisioning and mapping of mobile wallet apps, and enable and track pay tokens like Apple, Android, and Samsung.
E-payments
Get swift access to user information and manage it at massive scale to power your e-payment platforms.
Market data 360
Aggregate data from internal and external sources, and easily use it to provide operational services from a single location.
Trade blotter
Enable traders to access and analyze current and historical market data with high availability and low latency.
Customer 360
Capture omnichannel engagements to create a single view and provide real-time, personalized financial data, updates, and offers at every touchpoint.
Learn more
Catalog & inventory management
Deliver catalog and inventory data at scale to keep up with changing pricing portfolios, trade analytics, and more.
Learn more
Field service
Give employees the ability to provide or collect data at the source, whether it's a customer visit or on the trading floor.
Learn more
IoT data management
Leverage IoT devices to deliver personalized offers to users in real time, collect financial data, and more.
Learn more
Financial Services reference architecture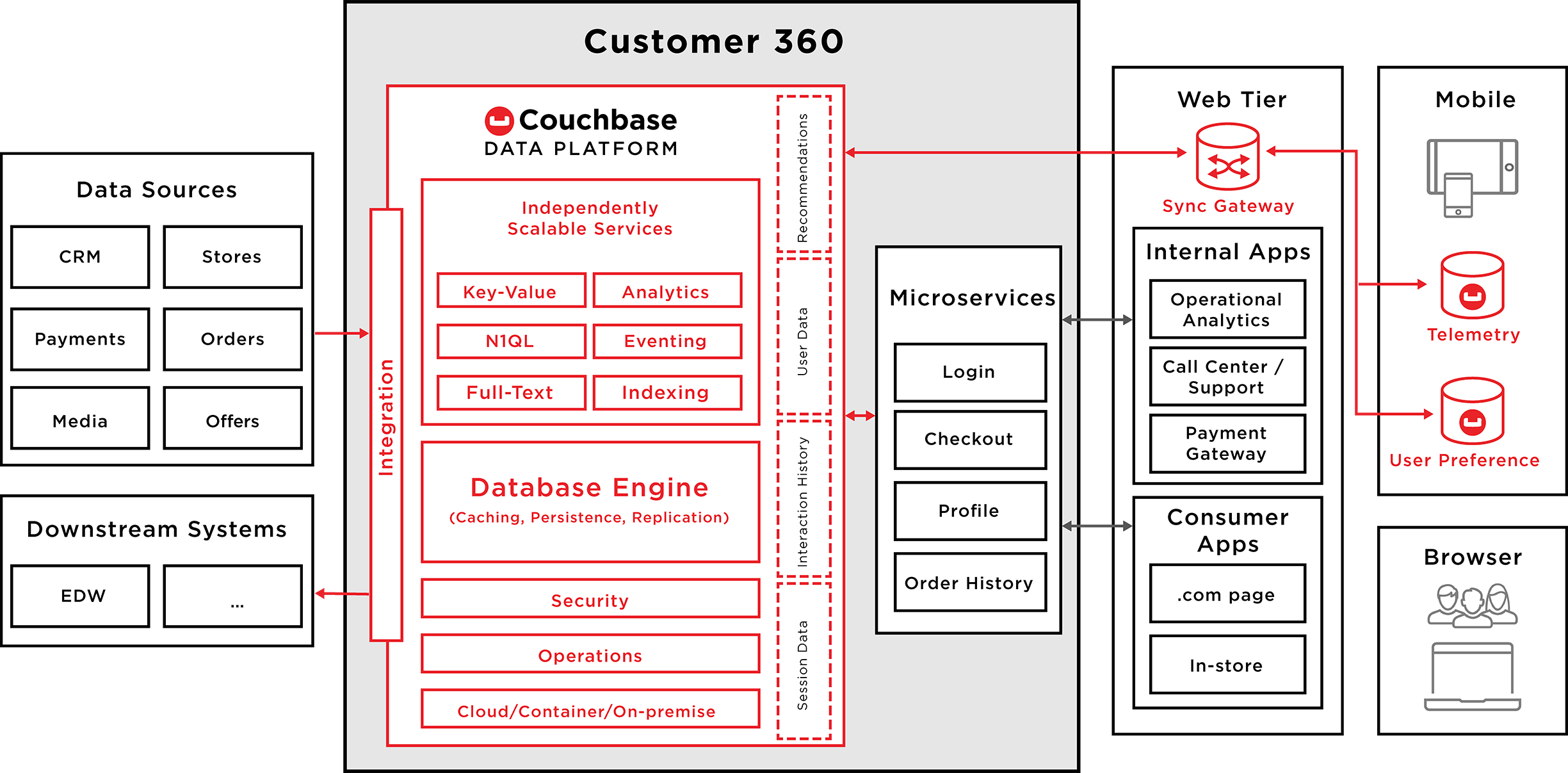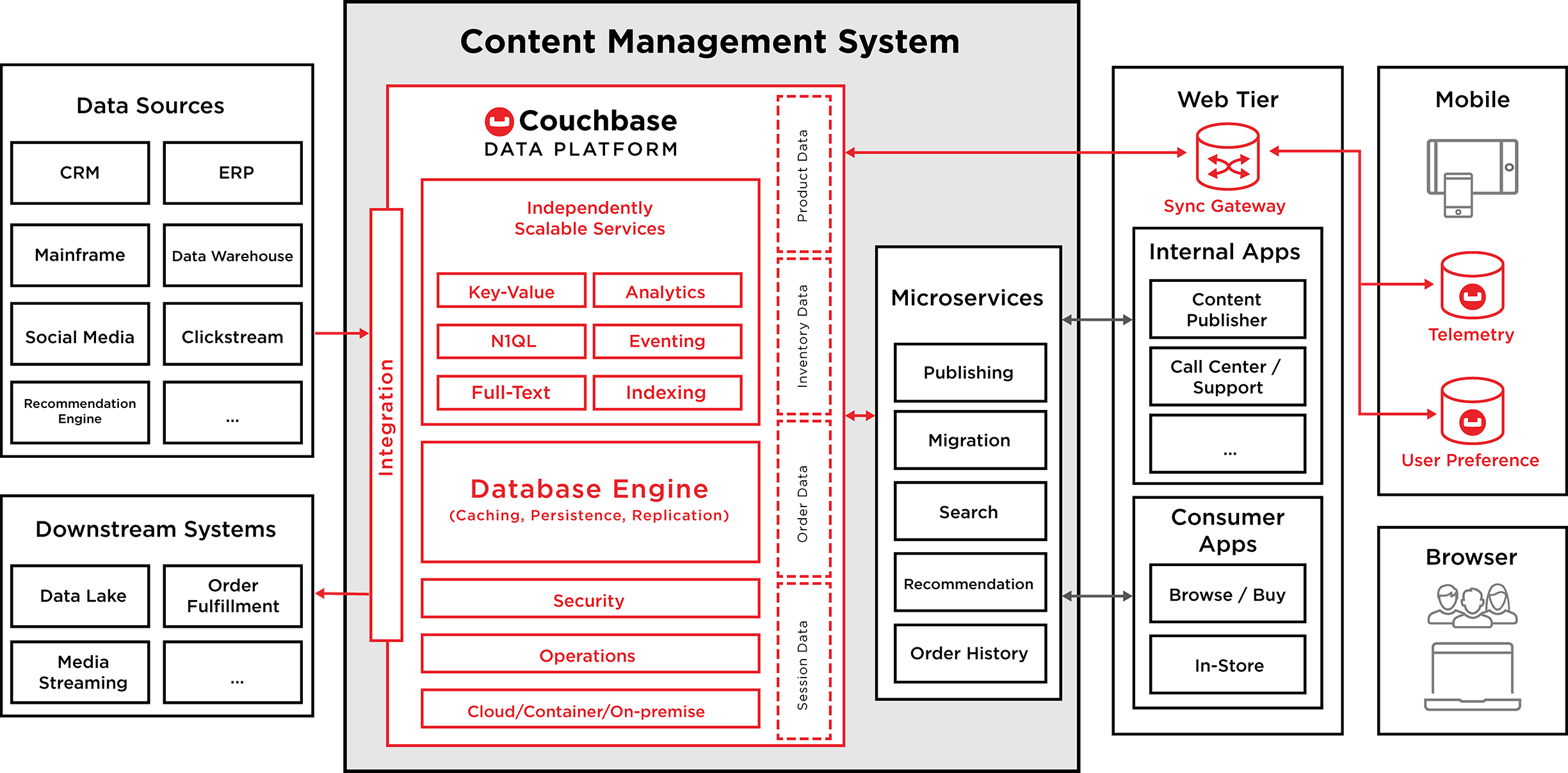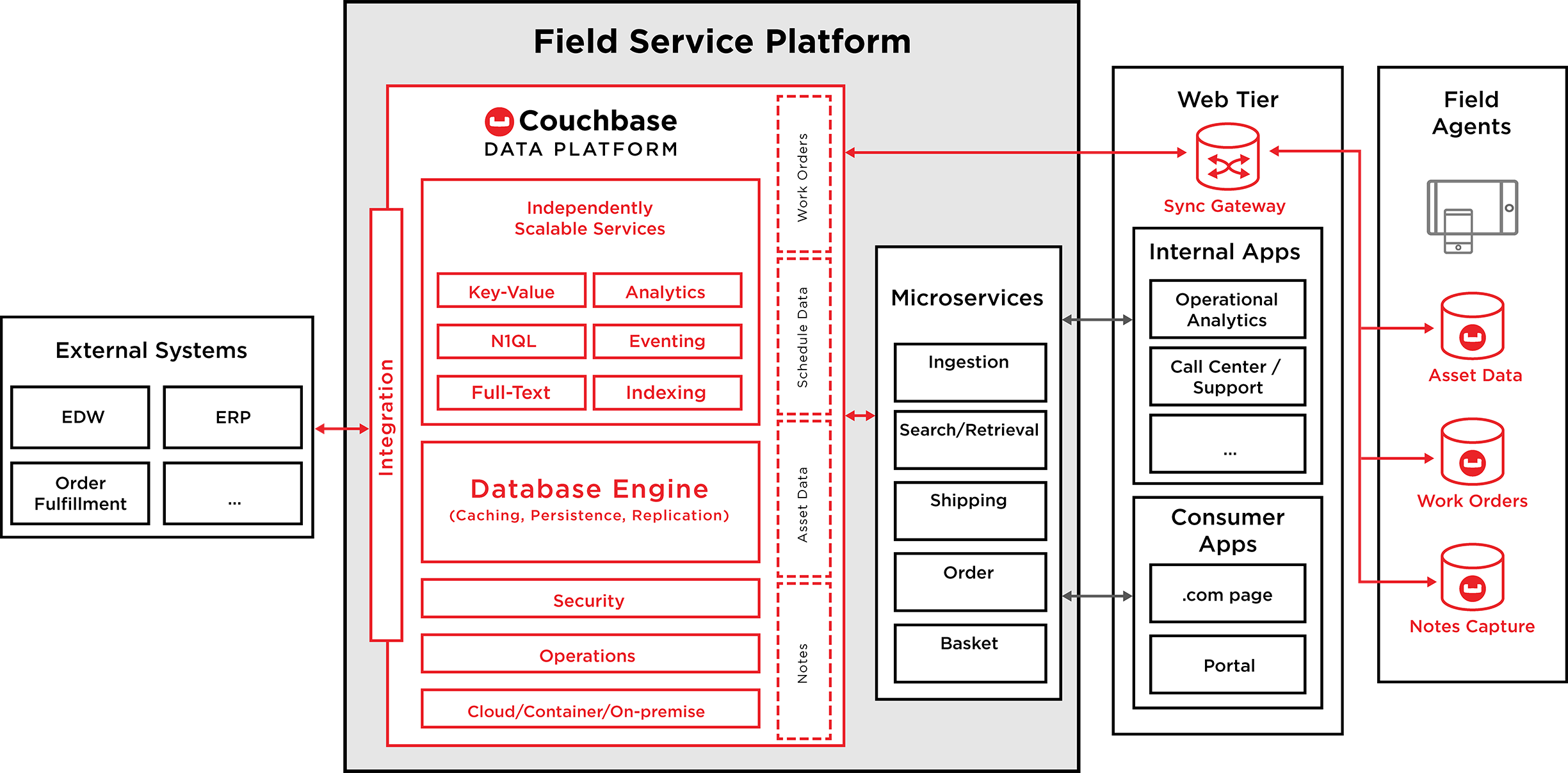 Start modernizing with Couchbase
Get your modernization guide now