Q2 Milestones include Wins at AT&T, BSKYB, Nikkei, Orange, Tesco, Verizon, $60 Million in Series E Funding and Release of New Mobile Products
---
Mountain View, CA – July 23, 2014 – (BUSINESS WIRE) – Couchbase, Inc., provider of the most complete NoSQL database, today announced continued momentum in Q2 2014, driven by new product releases and major customer wins, as large enterprises choose Couchbase Server, over Oracle and MongoDB, for mission critical applications. Q2 customer deals included wins at some of the world's most recognized brands, including AT&T, BSKYB, Cisco, Electronic Arts, Factset, FICO, Leclerc, Nikkei, Ntelos, Orange, PMU, Symantec, Tesco, Tixr, Unique Vacations, Verizon, vente-privee.com and WebMD.
"The market is clearly moving to broader adoption of NoSQL for big data management and mission critical applications," said Bob Wiederhold, CEO Couchbase. "We are seeing customers conduct deep, strategic vendor evaluations that compare and validate database performance, functionality and reliability. Our continued growth this quarter, and competitive wins over Oracle and MongoDB at some of the largest companies around the world, show that Couchbase Server continues to outperform the competition."
In addition to more than 70 customer wins across the United States, Europe and Asia, Couchbase announced the release of the world's first NoSQL mobile database,
received $60 Million in Series E financing, appointed Sujan Jain as Chief Financial Officer, and outperformed MongoDB and Datastax in the 2014 NoSQL High Performance benchmark.
Couchbase Leapfrogs Competition with Delivery of World's First Mobile NoSQL Database and Sync Solution
Businesses adopting a mobile first strategy want a better way to build mobile applications. Couchbase Mobile enables mobile application developers to quickly and easily build mobile applications that are always on, with or without a network connection, and that are able to easily sync data of all types to the cloud – or with other devices. The release of Couchbase Mobile is further increasing demand for Couchbase technology.
Couchbase Blows Past Competition in NoSQL Performance Benchmark
Couchbase Server continues to outpace the competition in meeting enterprise requirements for speed, performance and reliability. In the second quarter, Thumbtack Technologies released a 2014 High Performance Benchmark that documented Couchbase Server's superior performance over MongoDB and Datastax. The results from the 2014 NoSQL benchmark are consistent with internal benchmarks run by many of Couchbase customers.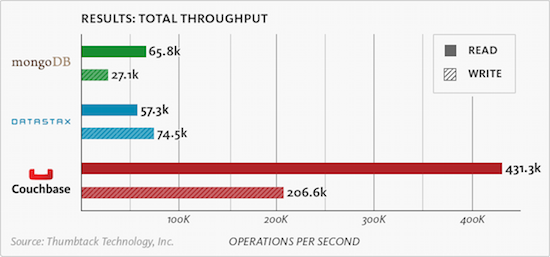 New Funding Positions Couchbase to Expand Leadership
With an exploding big data market that is increasing demand for NoSQL database technology, Couchbase anticipates nonstop growth in 2014 and beyond. With the additional $60 million investment received in Q2, Couchbase will continue delivering the scale, reliability, and performance needed to support enterprise mission critical applications, and will continue building market leadership by investing in product development, innovation, and company expansion, including increasing regional technical support operations and scaling its marketing and sales teams.
Additional Resources
Thumbtack Technology 2014 High Performance NoSQL Benchmark
Couchbase Secures $60 million in Series E Funding
Couchbase Announces Sujan Jain as Chief Financial Officer
Learn more about Couchbase Server Enterprise Edition
Learn more about Couchbase Mobile
Follow @Couchbase on Twitter
About Couchbase
At Couchbase, we believe data is at the heart of the enterprise. We empower developers and architects to build, deploy, and run their most mission-critical applications. Couchbase delivers a high-performance, flexible, and scalable modern database that runs across the data center and any cloud. Many of the world's largest enterprises rely on Couchbase to power the core applications their businesses depend on. For more information, visit www.couchbase.com.
Couchbase in news and press